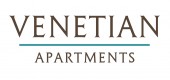 Your Review
Submit a Review

Resident Reviews
|

Recommended: Yes
Thank you so much for you feedback. We would be more than happy to look into the sound coming from your upstairs neighbors. We really are so thankful that you decided to call the Venetian Apartments your home!
|Recommended: Yes
Nice and Clean property — So far, I am very satisfied with our apartment and the property. We have had a couple maintenance requests that have not been fulfilled yet but we understand due to Covid they are busy right now and neighbors pets can be a little noisy at times. But overall, we really like it here.
Thank you for this great review! If you still have working orders outstanding, please enter them in the portal. We want to make sure we take care of them for you. Best, Venetian Team
|Recommended: YesGreat place — So far it's nice and quiet, everyone is friendly.
|Recommended: YesThe Proof is in the Pudding — The website does not do this property justice. This is a great place to call home and the amenities and weekly social events make you feel like you are on vacation even after a long day at work
|Recommended: Yes
It is a nice property and it is well managed — It is a nice property and it is well managed
Thank you Freddy for such kind words! We are excited to have you here at Venetian.
|Recommended: YesLove it — I wanted to wait a little bit before my review. I enjoy living in the Venetian community. Its secure, quite and clean as can be
|Recommended: YesStunning — This apartment complex is stunning. The apartment itself and the wonderful amenities they offer.
|Recommended: YesGreat Value Great Property — Recently moved into Venetian Apartments and am very happy so far. A clean and safe community at a great value.
|Recommended: YesBeautiful Complex, New Staff — Living at Venetian has many perks. It has a perfect location, hidden off of Winkler Ave, located right by the busiest intersection in Fort Myers 6 Mile Ortiz and Colonial BLVD. Despite this, it is so close to both 41 and I-75. Winkler RD is also dangerous to go left on, which I do daily. I heard the City is attempting to make a light somewhere in that area - after Hodges but well before Veronica Shoemaker. This would be great Originally, We were really upset with this complex. The staff were knowledgeable, the parking was painful, and the policies were silly. Our upstairs neighbors activities can be heard all the time in the living room. They have managed to keep the noises down recently. After 6 months of living there, it got way better. Parking was addressed with a new system, the staff became empathetic, and the traffic died down due to COVID. Great experience - all new amenities, TWO gyms, and dog parks. Love the lakes as well.
|Recommended: Yes
Love the community, maintenance is amazing — I would like to say a HUGE thank you to maintenance tech Edison for coming out to help me last night, my smoke detectors kept randomly going off and Edison showed up to my apartment so quickly and was so professional and fast Great service from him. Thanks again
Thank you! We will be sure to let him know the kind compliment you've given him!! Sincerely, Rose Marquez Business Manager.
|Recommended: Yes
It's an Awesome place to live — Millions of stars for the staff for taking good care of all the residents with this Convi19 that has taken a toll around the world. They acted immediately, with care, a professional and sensitive way to helping with all they could. Thank you we love Venetian
Blanca, Thank you so much! I cannot express how much this means to us. This industry can be very stressful and to hear this is such a reward! Sincerely, Rose Marquez Business Manager.
|Recommended: Yes
Love the area — Been there a few weeks now and it's been great The office staff is responsive and the area is kept very clean. Love that everything is pretty near.
Thank you for such kind words. Here at Venetian we are doing our best to make sure this is a place you love to live!
|Recommended: Yes
The property is beautiful and moving in was effortless. — I would tell them that they will absolutely enjoy living in such a beautiful community
Thank you so much for the kind review and 5 star rating. We want you to know it means a lot to us. We love the feedback and grow and learn from it. - Venetian Team.
|Recommended: Yes
Venetian — Pet friendly
Thank you for the four star review. We appreciate you leaving these kind words for us. We want you to love where you live.- Venetian Team